Management & Precautions
Management of WavePlay
1. When plays with WavePlay for the first time, once begin from an easy shape after searching the materials sufficiently if freely bend, insert, roll and touch and so on, not attempting to make a certain shape from the start, he can enjoy without a burden.
2. WavePlay is a reusable toy that can make and then unloose. In case it was unloosed with the passage of time after making a piece of work, a pressed mark occurs in the light of rubber property, In such a case, once spread evenly, it returns to the original stats.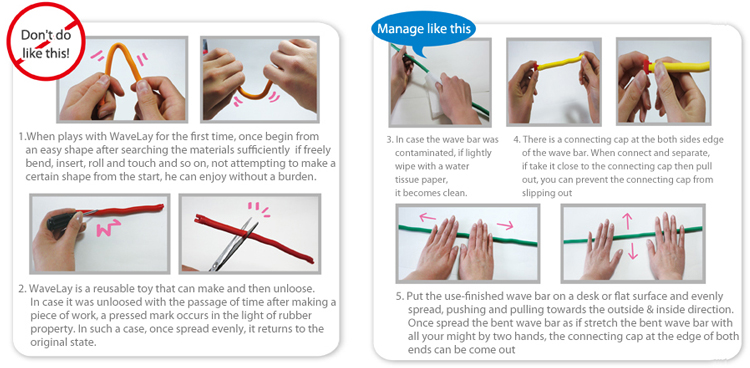 Precautions
1. WavePlay made from nonpoisonous material that passed the domestic safety inspection does not harm human beings, however, as it includes small parts, do not make a child hold in the mouth or suck.

Infant under 3 years of age is not allowed to use.

2. Do not bite the wave bar by teeth. As it is soft material, it may be torn out and enter the mouth.
3. Give warning that never tie or hit his body with a water tissue paper.
4. In case the wave bar was contaminated, lightly wipe with a water tissue paper.
5. Additional articles such as play board, wheel etc can be additionally purchased separately on the website.
6. Do not put near fire.
7.

"Wave Bars are consumables"


The use term can be different depending on the use method an purpose (Junk the wave bar broken when in use)
8.

All the materials of this product is 100% domestically-produced ones.